Faace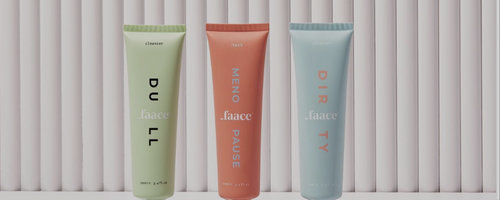 Founded in the UK by Jasmine Wicks-Stephens - the founder of a beauty PR firm - Faace was born out of a desire to find an actual solution behind skin problems. 
Faace says that its products have been designed for skin disrupted by life. And let's face it, all our skin is disrupted by life, whether it be hormones, over-exercising, under sleeping, anxiety, time of the month, pollution or over-analysing; Faace has developed a range of fuss-free, results-driven, easy-to-apply, affordable and low maintenance products. 
Faace knows skin. In fact, what Faace doesn't know about skin, simply isn't worth knowing. 
Faace's lineup of products - all produced in the UK -contains organic and naturally derived ingredients, and the brand prides itself in being totally transparent and open about what they do and don't include in their formulas.
All ingredients are ethically sourced, cruelty-free, vegan and 100% plant derived. You won't find any alcohol, synthetic chemicals, petrochemicals, SLS, palm oil, formaldehyde, synthetic fragrances, DEA/TEA/Phthalates, parabens, colourants or urea.
Faace products are also housed in recyclable packaging and 60% PCR plastic that's made from recycled materials, so they tick the eco credentials too.
 The brand also likes to give back; for every hero Faace mask purchased – Period, Tired, or Sweaty – the brand will donate a pack of sanitary products to someone in need via Hey Girls, a social enterprise that helps reduce period poverty.
And with the launch of Menopause Faace, Faace partnered with The Menopause Charity, donating to the organisation for every mask sold.
Filters