Mushrooms 101 With DIRTEA
Mushroom risotto? How about a Mushroom lasagna? Perhaps a mushroom chilli, or a stuffed portobello mushroom? Hands off your kitchen apron, because we're not here to be the next Jamie Oliver: we're talking about mushrooms for daily energy, immunity, focus and much, much more.
By Anna Myers / Jun 12, 2023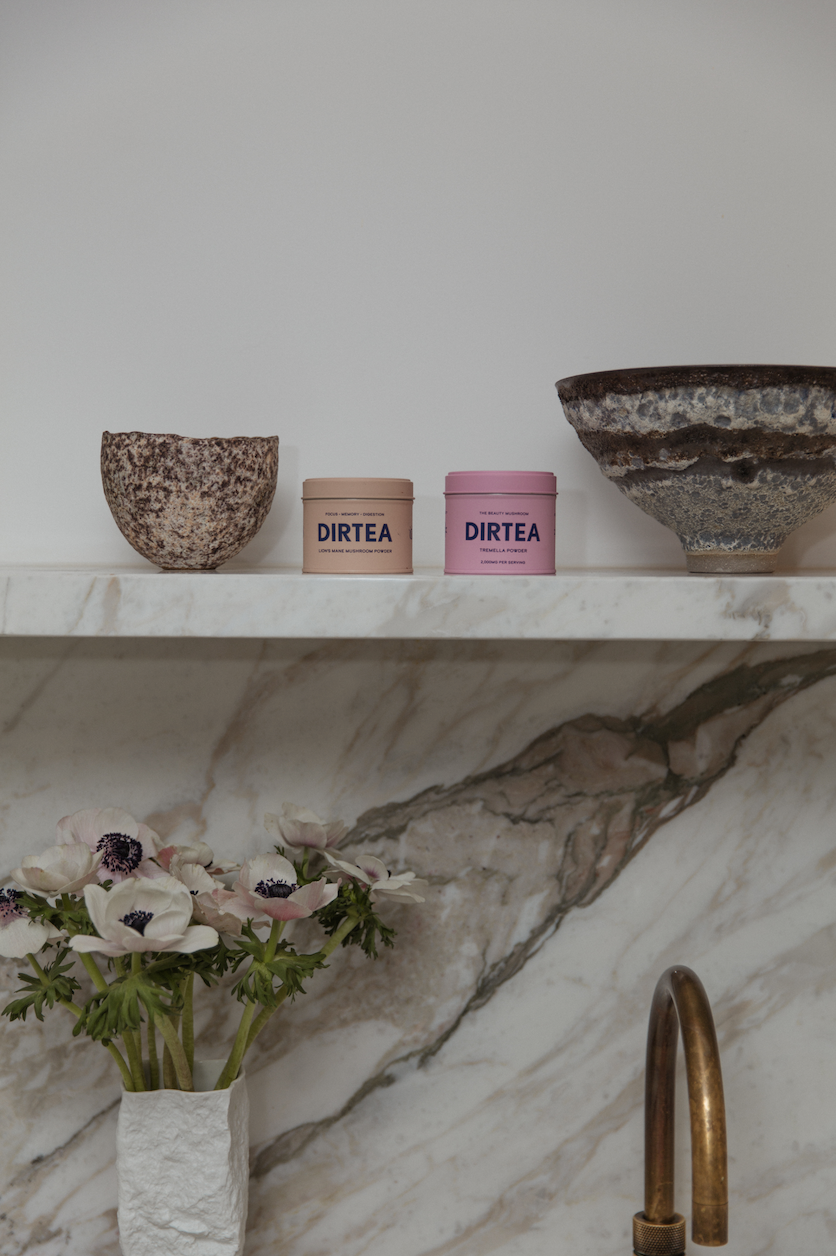 DIRTEA sells a premium range of potent functional mushroom extract powders, teas and coffee. Their products are organic, vegan, gluten-free, and 100% natural, and their packaging is eco-friendly and sustainable. They quickly and easily convert sceptics to full-on enthusiasts ––which is why we're so excited to partner with them and tell you a little more about their fantastic line.
what's the deal with funghi?
Medicinal mushrooms have been used in Eastern medicine for thousands and thousands of years, and their growing popularity is to chalk up to their incredible (and long!) list of health benefits. From antioxidant properties to anti-anxiety ones, from boosting focus and brain activity to regulating your hormones and aiding your sleep, there's little mushrooms can't do.

Fungi are mostly known for their calming and soothing effects, which can help you find peace when you're stressed and always on the go, as well as their unique ways of sharpening focus and giving you a breath of fresh energy when you need it. And in the UK, where vitamin D does not exactly abound, mushrooms are particularly useful: they help convert the ultraviolet light from the sun into vitamin D, which makes them an essential part of your diet

They have been given to cancer patients to help with their treatment, and research is still underway as to whether they could help fight cancer cells themselves. They can be taken as a supplement, a powder, and always, as part of a healthy lifestyle.
what about safety? are there any risks?
Medicinal mushrooms are safe to use in your teas, smoothies, tonics, and everywhere else. As with most things, each person will have a different set of needs and present different realities. Chaga, for example, helps lower blood sugar and would not be ideal for anyone with insulin issues, diabetes, or anyone on blood-thinning medication. Moderation is always key, and we recommend starting slow and seeing how your body reacts before increasing your daily mushroom intake!
DIRTEA is a next-generation wellness brand of pure and potent mushroom-based drinks, proven to give you natural energy, strengthen your immunity and help you feel calm and focused. It makes the purest and most potent functional mushroom extract powders, coffees and cacao super blends around ––mother nature style.
Lion's Mane helps with increased focus and better digestion, but it can also help protect against memory decline and dementia, as it stimulates the growth of brain cells. It's the perfect brain 'shroom. It also improves your mood and supports digestion, which makes it useful both if you've got a lot of heady work to do and if you just feel a bit under the weather.
Chaga mushrooms are great for skin, energy, and to aid the body's natural defences. They're extremely high in vitamin B and polysaccharides which boost their energy giving properties, but they can also reduce inflammation, fortify your immune system, and help you get your dose of natural amino acids, vitamin D, potassium, iron, calcium and magnesium.
Cordyceps mushrooms are used to increase energy levels, to better your performance and endurance levels, and find a little boost throughout your day. They increase vitality, stimulate oxygen flow, and improve your natural rhythms while enhancing them just enough for you to be your best self.
Reishi mushrooms are best used to destress, as they have calming properties and are great for centering yourself and finding your breath amidst the chaos of life. They're also great for immunity, and some studies have linked them to fighting illnesses of all kinds. Just one sip before you go to bed, and you'll be ready for the best night's sleep of your life ––just like nature intended!
This 'Beauty Mushroom' powder is renowned for its beauty and skin enhancing properties. It's pretty much nature's version of hyaluronic acid said to improve skin tone, elasticity, and hydration, resulting in thicker hair, stronger nails and a reduction in fine lines and wrinkles.

BORED OF YOUR ORDINARY DRINKS? WE'VE GOT RECIPES FOR YOU
Mushrooms may not taste like much on their own, but DIRTEA's powders and sets come ready to be enjoyed in a variety of delicious, flavourful ways.

You've got the Mushroom Cacao Super Blend for chocolate lovers, or the Coffee Super Blend for those who can't resist the pavlovian energy boost of that unique coffee taste.
Swap your espresso for an Eye Opener, with enough Cordyceps to pick you up, oxygenate your body, stimulate your brain and boost your immune system! Add a little Reishi to your cappuccino for a helping hand in fighting the dreaded mid-afternoon slump: you'll be energised for the rest of the day and finish off your to-dos in no time.
And if you're in the mood for a sparkling tonic, mix Lion's Mane with hibiscus and rose to soothe and uplift your spirit, dial in focus and enhance your mood pre-aperitif. There's truly something for everyone, and you won't bore yourself trying all the different recipes out!