Gut Health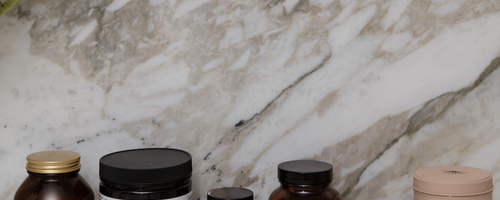 You'll have noticed it too. The world of wellness has recently turned its attention to gut health, and for good reason. The best gut health supplements and probiotics – the kind you'll find here in Dandy's selective edit – can support the body's microbiome. Not sure what that is? Well, to put it simply, the microbiome is the delicate ecosystem of millions of bacteria and fungi, collectively responsible for ensuring the smooth and effective functioning of so many of the body's natural processes. 
When the body's natural microbiome is a little off kilter, it can manifest in all manner of issues, from digestive concerns to skin imbalances and if you've heard of the gut-mind connection, you'll know it can even impact your mood. So how do you get it back on track? It's important to take a two-pronged approach, firstly adding extra fermented foods (think things like kimchi, kombucha and kefir) into your daily diet. But sometimes (well, a lot of the time) that isn't quite enough, and that is where probiotics and supplements for gut health come in handy.
Probiotics are the kind of 'good' bacteria the gut microbiome needs to thrive. They help support so many areas of our holistic health, from digestion to stress levels, skin to immunity, and will help to bring the body's natural microbiome back into balance. Ready to revolutionise your microbiome? Top up your 'good' bacteria reserves with the very best probiotics and gut health supplements the UK has to offer, found here at Dandy.
Filters