Sleep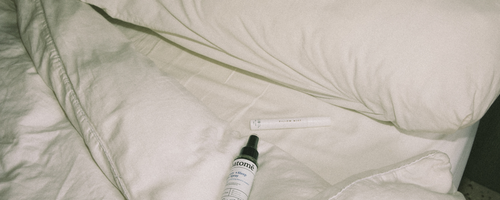 Can't get no sleep? It might not feel like it, but seek solace in the fact you're not alone. A remarkable number of us have issues either falling asleep, or staying asleep once we finally make it there. You might consider counting sheep or listening to a podcast to lull you into dreamland, but might we suggest a different approach? Shop from our curated edit of incredible sleep supplements, essential oil blends and patches, all available here in the UK. 
Anatome's Essential Oil blends are one brilliant way of transforming your bedroom into the kind of dreamlike sanctuary conducive to high quality sleep. They can be dotted onto pressure points or used inside a diffuser to send billowing clouds of calming scent into the atmosphere, just what you need to settle an overactive mind. Or perhaps you want to be more focussed with your scented application? In which case try the brand's Recovery and Sleep Pillow Spray. It's chock-full of lavender which is proven to stimulate alpha waves in the brain that help you relax and unwind. 
CBD is also considered a wonder ingredient for sleep, so look to Apothem's Lights Out CBD Oil Drops for your fill. At 10% concentration, the high performance CBD manages to relieve tension and send you off to sleep at  record speed.
Dandy is also home to plenty of incredible sleep supplements, like Biocol Labs Something for Dreaming or Marie Reynolds London Zeds, as well as Ross J Barr's Sleep Patches. In other words, a good night's sleep is just a few clicks away…
Filters