Mind + Spirit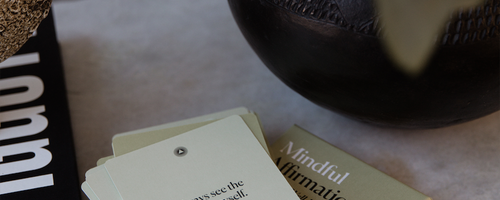 There's no denying that a lot of the work it takes to boost the mind and lift the spirit comes from the internal, from taking time to hone your mindfulness craft. But in order to create an environment conducive to carrying out that mindfulness, it doesn't hurt to employ the use of Dandy's tight edit of brilliant mindfulness and spirituality products that will help you curate your very own peaceful sanctuary at home.
So where do you start? May we turn your attention to Bodha, and its dreamy incense sticks. Available in four blends, each designed to elicit a different feeling or emotion, you can easily scent your space with fragrant fumes suited to you and your mood. Not only does incense set the scene, it enlists the help of one of your most powerful senses - your sense of smell - to help lull you into a deeper state of peace, calmness and serenity. And that's why incense has to be one the best mindfulness products around.
Comfort is also key. Bring Bodha's beautiful aromatherapy pillows into your practice. The most comfortable way to block out the distracting sights and lights of the outside world, resting one of these heavenly pillows over your eyes will boost your mindfulness practice, or even work as a welcome sleep aid on nights where you can't seem to switch off.
And finally, crystals. The queen of all spirituality products, there's a crystal to suit your every need, and TBalance has found a way for us all to take them with us wherever we may go. Its healing bracelets feature different stones for different goals; select the one you need right now, or stack them up to bring you an even greater sense of support and balance. 
Filters