Acu Point Zero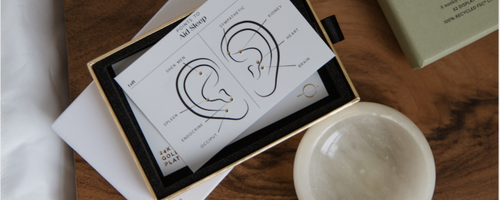 When things feel a little off kilter, consider Acupointzero your first port of call. It's the new-age wellness brand capturing the power of Ancient Healing and applying it to the tolls, trials and tribulations of modern day life.

How? Through the wonder of ear seeds. A favoured treatment within the realm of Traditional Chinese Medicine, for the uninitiated, ear seeds are simply tiny 'seeds' made from 24K gold that stimulate pressure points around the ear, clearing energy blockages throughout the entire body and promoting healing in the process. It's a practice that dates back over 5000 years, yet remains just as favourable today as an effective way to bring the mind and body back into balance. And Acupointzero makes it easier than ever to get your fix.

Whatever you and your body need right now – be it better sleep, a solution to soothe anxiety, an immunity boost or help with digestion or debloating – there's an ear seed treatment for you. Each Acupointzero kit comes complete with an ear mapping guide, marking where exactly to place the seeds to achieve your personal wellness goal.

And the best bit? You do it all yourself. Rather than seeing a pricey specialist, Acupointzero makes ear seed treatments accessible to all. Plus, there's no need to wait weeks for an appointment when you can apply the ear seeds from the comfort of your own bathroom. In other words, it was a total no brainer to include Acupointzero in Dandy's curated wellness offering.
Filters