Bed Of Nails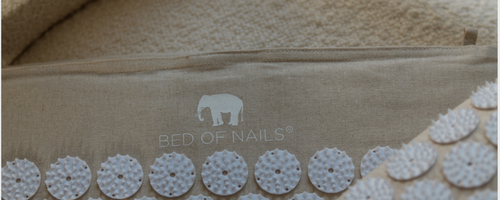 It may be a leading brand on the modern day wellness scene, but the idea behind Bed of Nails charts back over 1000 years. In fact, these new-age wellness tools are based on the mythical bed of nails, used by gurus in the practice of meditation and healing. Thankfully, modern-day Bed of Nails, a range of ergonomic acupressure tools, are altogether more approachable.

Designed to help us all have a moment of self-healing at home, each Bed of Nails product is made of non-toxic, recyclable plastic 'nails' that are totally harmless to the skin but offer incredible healing properties. Whether you stand on the acupressure mat or lean up against the acupressure pillow, each 'nail' gently presses into and massages the skin, releasing tension and melting stress almost in an instant.

It also manages to stimulate energy and can help the body release endorphins, so you (weirdly) feel energetic and completely relaxed at the same time. Plus, acupressure is reported to help relieve all sorts of pain issues too, perfect for anyone that spends a lot of the time slouched over a desk.

Designed to help us battle the stresses of the modern world (of which there are many), Bed of Nails started the global acupressure mat movement back in 2009. Sure, nowadays it's a popular wellness pursuit spotted all over social media, but Bed of Nails are undoubtedly both the original and the best in at-home acupressure technology. So is it any wonder that the brand made the cut for Dandy's expert wellbeing offering?
Filters