Drowsy Sleep Co.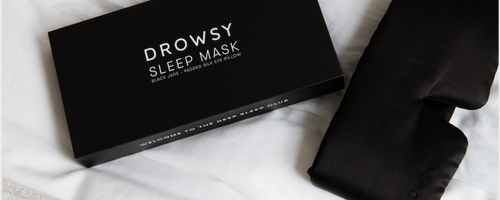 Looking for the best night's sleep of your life? May we introduce you to Drowsy Sleep Co, makers of the cult sleep mask found on faces (and Instagram feeds) up and down the country. The ultimate aid if you struggle to switch off, the sleep mask was a no-brainer inclusion for Dandy's elevated edit of luxury wellness products and remedies.

The mask in question is nothing short of a mini miracle. Perfectly blocking out every last ray of light, it makes lunchtime naps possible (hurrah!) and will help even the busiest mind switch off at night. And where other sleep masks can feel restrictive or painful, there's none of that with Drowsy Sleep Co. Made from double-padded silk and with total face coverage, it's squishy, super soft and incredibly comfortable, like some kind of memory foam mattress for your eyes. In other words, you won't find yourself chucking it across the room in midnight discomfort. In fact, it's so comfortable, you'll probably find yourself lying in much later than ever before.

Drowsy Sleep Co's cult sleep mask is the brainchild of brothers Thom and Rich Hemelryk, who, after five years of running high pressure hospitality businesses together, managed to develop chronic insomnia – and they're not alone. With sleep quality on the decline, and stress on the rise, we could all do with a little help in the sleep department. And where other get-to-sleep strategies falter, there's something rather foolproof about simply donning Drowsy Sleep Co's mask and gently drifting off into dreamland.

Filters