FEWE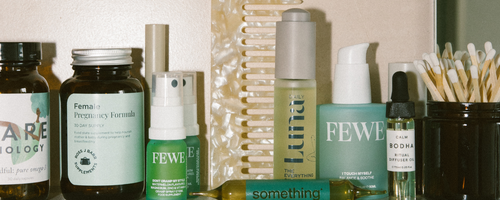 There is no wellness without cycle care. That's the bold statement behind Fewe, the self-care brand creating wellness solutions built around the changing symptoms of your menstrual cycle. And when you think about it, it makes total sense. Depending on where you are in your cycle, your mood will be different, your energy levels will be different, and your need for grounding rituals will be different, too. Fewe is the brand that meets you where you are in your cycle, arming you with the tools you need to not only survive your cycle, but to thrive in it, too.

It's on a mission to change the conversation about your menstrual cycle, and to demystify what's really going on with your body, so you can get ahead of those monthly shifts and changes. When you finally understand the ins and outs of your cycle, it's very easy to see just how powerful it is.

Fewe looks at your cycle and splits it into four key stages: flow (menstruation), soar (preparation), transform (ovulation) and reset (pre-menstruation). Recognising that hormone levels fluctuate depending on which stage you're in, and understanding the monumental impact that can have on your mood and sense of wellbeing, Fewe has created a killer line-up of wellness solutions you can mix and match as your cycle develops.

There are skincare formulas that help remedy the more physical manifestation of hormone fluctuations, as well as pain remedies, calming solutions and functional fragrances, designed to shift your mood whenever a bout of low energy strikes. Need help navigating your cycle? Look no further than Fewe, available to buy here at Dandy.
Filters