Luna Daily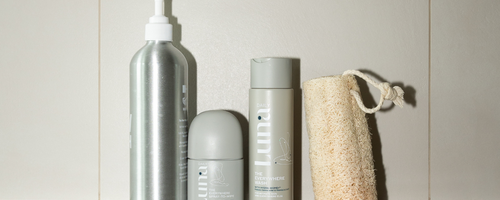 If you've ever been the type to scurry a feminine hygiene product into your basket at the supermarket, or to hide one in the back of your bathroom cabinet, Luna Daily is the brand for you. It's the brand breaking down boundaries when it comes to feminine hygiene, trying to rid us of the shame that we feel when talking about a part of our bodies that is so important. It's also built on a concern that as a collective, we know a hell of a lot about caring for our hair and faces, and have routines to meet their specific needs, but when it comes to caring for the vulva? So many of us have zero clue.

Luna Daily is the brand making products for and conversations about womanhood as natural as they should be. The ethos is that if you make a product for the intimate skin down there, then it will be gentle enough to use everywhere, hence why pretty much every product in the Luna Daily Range is designed to be used all over. And you can discover Luna Daily's expert-backed range of feminine care products here at Dandy.

There's the Everywhere Wash, a pH balanced formula to cleanse the vulva without upsetting the sensitive skin. The Everywhere Spray to Wipe turns a humble sheet of toilet paper into a high-end, skin-loving cleansing wipe, for a feeling of ultimate clean. And as for the Everywhere Oil, this multi-tasking formula is clinically proven to visibly reduce ingrown hairs, scars, stretch marks, dark spots, redness and bumps, for softer, smoother skin down there and everywhere else for that matter.
Filters