OTO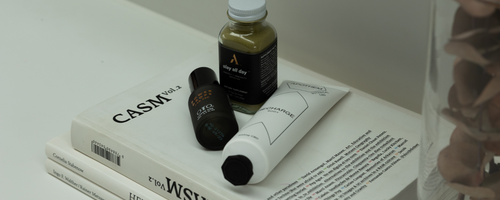 Meet OTO, the brand hoping to bring moments of calm to our current world of chaos. A purposeful brand that believes there's more to CBD than the current market fad, its goal is to help you find ways to utilise the incredible powers and benefits of CBD on a daily basis, in a way that works for you and your lifestyle.
Founder Gemma first discovered the wonders of CBD when she was working in the high-stress, fast-paced fashion industry. She had always suffered from anxiety, which in turn, badly affected her sleep and wellbeing. That was until one day, a friend recommended that she tried CBD. Since then, she's never looked back, apart from to realise just how disappointing the traditional CBD market was. Her research revealed products with ineffective ingredient levels in unpleasant formulations. So she took it upon herself to create a range of CBD products that actually work – and are enjoyable to use.
Funnelling the calming, restorative effects of CBD into high-end wellness and skincare formulas, OTO aims to provide the most effective and luxurious experience every single time you open one of its products. That's why every single one is rigorously researched, designed, and tested, so you know that the end-product that lands in your bathroom cabinet is well worth the investment. All of their ingredients are sustainably sourced, naturally derived and vegan and cruelty-free to create premium products that actually work. Just how we like it.

Whether you need help sleeping or simply getting through a stressful day, lean on OTO's incredible CBD formulas to make life feel a little lighter.
Filters