8 wellness events to watch out for this octobeR
With bewitching October comes darker days, longer nights, and a crisp, cosy autumnal feeling - all the way up to Samhain. An ancient pagan festival, Samhain, celebrated on 31st October, marks the Celtic New Year, the end of summer, and the end of the harvest season.
By Grace Freeman / Oct 01, 2023
Why not mark the upcoming seasonal start with one of the month's events below - including a joy-inspired workshop, a restorative breathwork session, and women-only tantric training.
ELEVATE YOUR PERFORMANCE: UNLOCKING SUCCESS THROUGH JOY
Performance coach Irina Musteata encourages you to connect with your own idea of fun, joy, and fulfilment – and channel it in a way that leads you to success. Take everything you thought you knew about the road to achievement – endless sacrifice, eternal burnout – and throw it away in this jubilant workshop.
Location: AllBright, London, UK.
MAKE SEX SACRED AGAIN: POLARITY
Drop into this second session of a three-part training series designed to encourage those in female bodies to reach full pleasure. Led by women mentor Melisa Maya, this month's meet looks at the contradictions of opposites, explores how we can be and express all things, and shares practices on how we can rewire any of those limiting beliefs.
Location: 42 Valentine Road, London, UK.
TRANSMISSION: THE NEW MOON SESSIONS
A She's Lost Control exclusive, join one of their practitioners for a monthly new moon session and set your own intentions for the start of a new lunar cycle. October welcomes in the Libra new moon and this month's gathering will be led by healer Kate Fleur Young. Get ready to welcome in that new vibrational energy!
Location: 42 Valentine Road, London, UK.
Coach Paddy Cavendish shares ways in which the power of our breath can be used as tool to improve our physical and emotional health in this practical workshop. Learn simple, relaxed techniques and tips to take away with you following the session.
Location: Mortimer House, London, UK.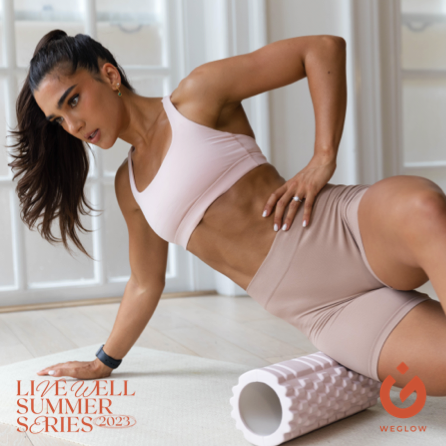 ALLBRIGHT X WEGLOW PILATES
Founder of fitness and nutrition app WeGLOW Stef Williams leads an exclusive evening pilates class, available only to AllBright club members. Stretch, bend, work those glutes, all whilst staying balanced and connected to your breath. It's the perfect kind of workout!
Location: AllBright, London, UK.
SPREADING JOY & HAPPINESS
Rosie Nixon hosts a conversation with Gaby Roslin, Gemma Perlin and Hope Oloye, in recognition of October's World Mental Health Day. Join a discussion filled with stories, anecdotes, and practices to remind yourself of the simple, easeful pleasures of life and the power of positivity. Cheers to that!
Location: AllBright, London, UK.
PYSCHEDELIC SOUND MEDITATION
Break through your own barriers in this immersive psychedelic sound meditation session designed to remove any roadblocks that might be in your way. Led by therapist Valentina, this two-hour workshop includes an introduction to psychedelics, breathwork practice, and deep sound immersion through a variety of tools and technologies.
Location: 42 Valentine Road, London, UK.
Immerse yourself in the method of Reiki in this intimate circle gathering. Open your throat chakra through energetic chants and tap into your body's own natural healing powers through a guided ritual. It's recommended that you bring an object along with you to absorb the Reiki and so you're able to continue the journey following the practice.
Location: AllBright, London, UK.