What's New In Wellness This July?
New health and fitness studio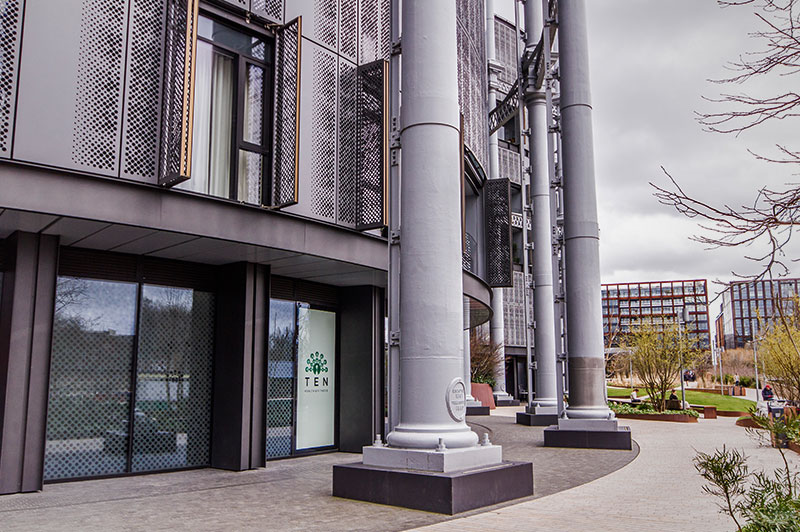 The acclaimed luxury health and fitness space, Ten, has now opened new doors in King's Cross – the largest of all the Ten locations. Featuring the Ten trademark Dynamic Reformer Pilates, award winning physiotherapy as well as personal training, sports massage, clinical exercise and women's health. Ten Kings Cross is designed to be a one stop destination: alongside your workout, you can now also give your body a wellbeing MOT with new state-of-the-art technology wellness area – treat yourself to IV infusions, compression therapy, cryotherapy and even a session in an Infrared sauna. 
New Hard Seltzer drink
SERVED is the new premium British hard seltzer brand causing a buzz. A unique new brand on the noisy drinks market, SERVED is an alcoholic drink with all the flavour yet none of the calories, sugar and bad stuff! Created from sparkling spring water, wonky fruit paired with ServedPure spirit – the result is a refreshing 4% ABV plant based, gluten free hard seltzer with a crisp, fresh flavour and a little natural sweetness. SERVED is also committed to reducing food waste and environmental impact where possible: 'wonky fruit' is saved from going to waste, packaging is full recycled and there is zero sugar, nor artificial additives in ingredients. With singer/songwriter, Ellie Goulding, now a stake holder expect developments – 5% profits go to environmental projects.
New luxury scented candles
Discotheque is the chic new luxury scented candle brand to know about. Discotheque is inspired by the decadent night life, disco era of the late 70's and early 80's, more a colourful way of life than just an evening out full of misfits, fashionable icons and even wallflowers! Each candle is named after an era defining nightclub from that time, aimed at evoking memories from those legendary parties: think Castels Paris, Mudd Clubb and Paradise Garage. All candles are carefully curated with fully traceable, sustainable, high grade vegan wax, an all-natural blend of rapeseed oils and soy for a slow burn effect.
Check out their beautiful fragrance range too.
New culture inspired Ice Cream Brand
Araw is a new artisanal, small batch ice cream brand that is aimed at delivering a sense of familiarity and nostalgia for childhood memories, trips and vibrant cultures. Authentic flavours – this is no basic Chocolate, Vanilla, Strawberry brand - to bring a sense of joy and happiness: try sumptuous tubs of mango sticky rice, dirty horchata, honey lavender, earl grey malted crumble and basque cheesecake to name a few. There are also jet setter and adventure packs – or just build your own set of flavours and experience Saturday night on the sofa with a touch of different exotic cultures.
Oru new multi-purpose space
Oru, a landmark co-working, leisure and wellbeing destination space launches its second site in Sutton this September. A nurturing space aimed at connecting people, expect a plant filled hot desking area, private office space, and rooftop garden, where there will be an intergenerational garden used in partnership with Aged UK, where both elders and primary school children can connect. After work, go and nourish yourself in the holistic spa, with a yoga workout, acupuncture treatment and an infrared sauna. There are offers now on for the 'soft opening' before September.

New independent brand pop up store
Raye the Store is a travelling pop up well acclaimed for its curation of sustainable and independent food, drink, wellness and beauty brands. Arriving to Spitalfields Market from 29th June, expect a focus on health drinks, beauty, wellness and even some pet brands in there too: from ethical beauty brands using ingredients from Madagascar, plant-based collagen support, plant-based milk alternatives and plenty more.
          New Vitamin Drinks
Vitamin Well, A Swedish born success story, now arrives on the UK market: a non-carbonated, low calorie vitamin drink infused with vitamins and minerals. Designed to be a modern, healthier and tasty alternative to sodas and fizzy drinks, Vitamin Well is preservative free and made from 100% recycled plastics. Launching in the UK with four flavours: Elevate, Hydrate, Recover and Reload. Packed full of goodness and minerals, B12, Folic Acid, C, magnesium and more.
New women for women fitness studio
Lift Studio LDN is not just a lift-based fitness studio but built upon the idea of creating a safe community space for women to work out and build self-confidence, whilst also learning how to lift. There are different weekly packages you can sign up to, which include programming tailored to injuries, technique workshops, and even access to Lift and Brunch socials. So, you can meet like-minded types whilst strength training.
liftstudiolondon.com
New functional mushroom supplement brand
A range of high potency formulas, the new supplement brand, Headstrong, began with the founder, Finn Hall, experimenting and researching how functional mushrooms could improve personal performance: Headstrong just requires you to take one daily capsule that can give transformative effects. Choose from a range including Lions mane, Reishi, Chaga, Tremella, Cordyceps and others.
New Summer Read
The Perfection Trap: Embracing the Power of Good Enough by Thomas Curran is an impeccably researched guide in how to disassociate from the soul crushing pressures of modern society to find perfection and instead find 'true value' in good enough. Author Curran is an acclaimed London School of Economics professor, gathering a wide range of contemporary evidence, uses the book as a call to change mindset and broader societal change: he guides readers in ways to create a culture that celebrates the joy of imperfection.