Feminine Care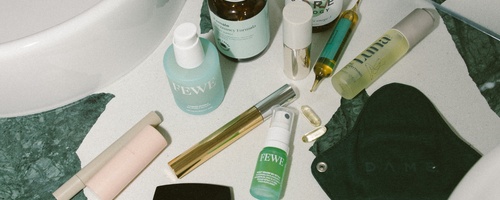 Once a taboo, and now (finally) an open topic of conversation, finding the right feminine care products to suit your cycle and unique needs has never been easier. Why? Because of the recent influx of innovative new brands bringing feminine care bang up to date. Just the kind of thing you'll discover in our selective edit of the very best feminine care products.
First, of course, there's the issue of sustainability, there are plenty of feminine care products and brands addressing this need with pure innovation. When it comes to eco-friendly feminine products, we've hunted out the best new tools and solutions to ensure you can not only survive your cycle in total comfort, you can thrive in it too. Just look to DAME., a brand known for its reusable period pads and reusable tampon applicators, or in other words, the eco-friendly period alternatives you've been waiting for.
Luna Daily is the brand revolutionising feminine care, with self-care formulas you can use, well, everywhere. pH balanced and using only the bare essential natural ingredients, its formulas are designed to balance and nourish intimate areas leaving no question mark around what you can and can't use down there.
And then there's FEWE, the wellness brand that works <with> (rather than against) your cycle. Its collection of oral sprays and skin balms address the mood shifts and bodily pains that come hand in hand with menstruation, while its vulva serum (aptly named I Touch Myself) deals with any irritation or discomfort. It's feminine care on your terms.
Put it this way: the long-awaited period revolution might just finally be upon us…
Filters